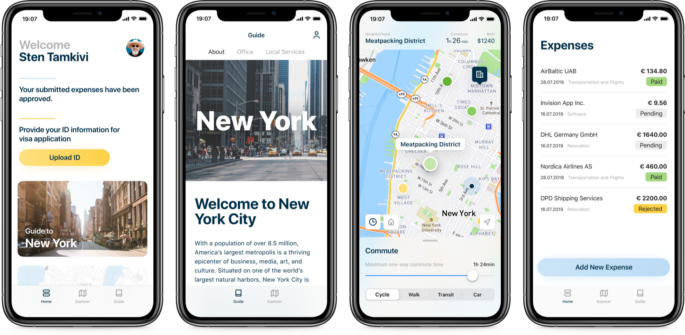 Announcing the Topia Go Mobile App
Mobile is big and it's only getting bigger. Don't just take my word for it, here are the stats:
Yet, some tasks are still better suited for an old-fashioned computer. Browsing real estate, for example, tends to be overly complicated on mobile devices. While researching across two dozen browser tabs on a smartphone is possible, the experience is cumbersome at best.
The same applies when exploring new world destinations, whether for travel or relocation. The amount of research involved usually requires dozens of browser tabs and multiple apps, each focusing on an important part of the upcoming experience.
Topia's core offering has always been, and continues to be, a fully-featured relocation platform created for desktop computers. However, we designed the experience to dynamically adapt based on screen size, meaning mobile users have always had access to the same robust feature set available to those accessing the platform from a desktop computer. Despite frequent requests, we have resisted the temptation to build a mobile app just for the sake of having a mobile app. For us, a new application only makes sense if it contributes significant additional value.
So when we set out to build the Topia Go mobile app, we weren't just planning to build a smartphone app. We hand-selected key features that could be mobile optimized, specifically tailoring existing functions for a significantly enhanced user experience. During this process the top features we identified included:
Neighborhood Explorer
Internal research has shown that the happiness of relocating individuals is strongly related to the suitability of their new neighborhood. Our proprietary Neighborhood Explorer leverages patented technology to bring an unprecedented level of data and detail to the home-search process. With the Topia Go mobile app, a quarter billion data points are now surfaced on a smartphone screen — all on the go. Customer feedback has been astounding. Users can now reference commute times and rental prices in real-time as they are moving about their new city. This enhanced user experience has the potential to significantly impact the quality of life and general wellbeing for relocating individuals.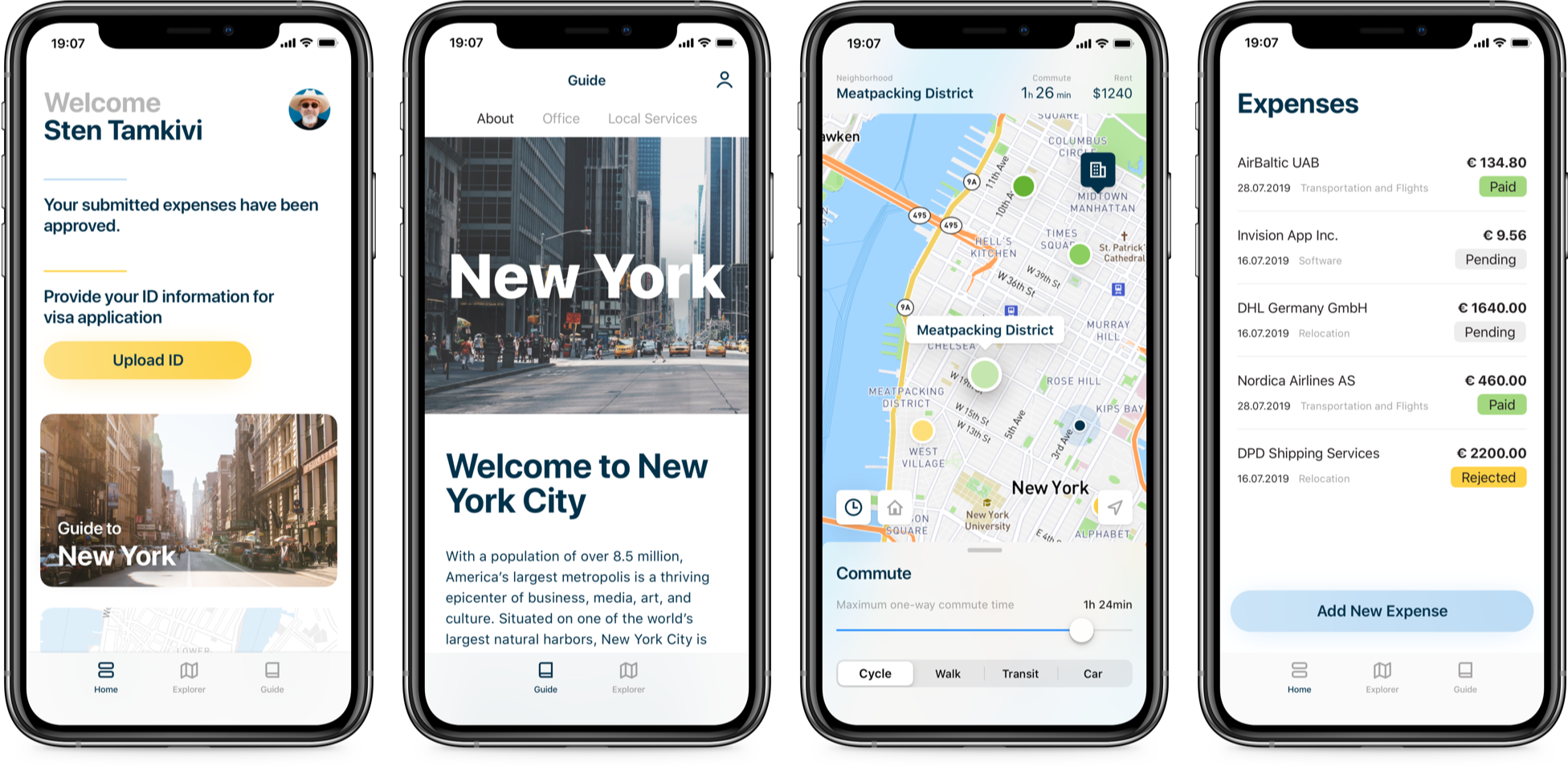 Expense Upload
Historically, managing travel costs and expense reimbursement on the move has been a complicated and messy process. But with the Topia Go mobile app, expense management is simple. Just snap a photo of the receipt or invoice, upload it to the cloud, and wait for reimbursement. Users can edit existing expenses and review past uploads. Our custom expense management tool now securely stores all move-related financial details in a simple and organized mobile user interface.
Task Management
One of the biggest challenges when moving is staying on top of everything which needs to be completed before, during, and after the relocation. With the Topia Go mobile app, our customizable Task List is easily accessible at all times. Push notifications help users stay on top of important deadlines, and certain time-sensitive tasks, such as submitting a passport photo, can be easily handled on the fly.
City Guides
Our comprehensive City Guides cover all aspects of top global destinations, including culture, safety, respect, transportation, sports, food, banking, and more. All City Guides are written specifically for professionals, curating tailored content and insider tips to give users local insight into their new city before they have even arrived.

Relocation is difficult. Even for experienced travelers, the prospect can be daunting. But with the introduction of the Topia Go mobile app, the relocation process is simplified and streamlined with personalized, mobile-optimized features from the Topia Go desktop platform. Users can now remotely manage and oversee all aspects of their move, saving time and energy in the process.
To learn more about our new Topia Go mobile app read the FAQ below or download the app here.
Topia Go Mobile App FAQ
Q: Does the Topia Go mobile app replace the desktop version?
A: No, the Topia Go mobile app does not replace the desktop version. Rather it offers a way for employees to take key functionality with them on the "Go," while optimizing experiences for mobile devices.
Q: What functionality is included in the release of the mobile app?
A: With the October release, employees will be able to log in to the Topia Go mobile app and access their City Guide and Neighborhood Scanner (if available for their destination) on iOS devices. By the end of the year, users will be able to see and action key tasks, upload and manage expenses, and receive push notifications with app availability for both iOS and Android users.
Q: Will the app require an internet connection to work?
A: Initially – yes. Topia is currently working on making some functionality and content available offline (e.g. content – that would be good to read while flying). This will be available by the end of December.
Q: Is the Topia Go mobile app free? / Do I need a login to access the Topia Go app?
A: The Topia Go mobile app is included at no additional cost for Topia customers who have purchased the Go module. Relocating employees will need a login to Topia Go to use the mobile app, which is created by their employer using the Topia platform. For users that want to test drive the app, they can download it free of charge and access the San Francisco city guide and Neighborhood search limited features.
Q: How secure is the app?
A: Topia's desktop and mobile applications follow industry standard best practices to ensure the highest levels of security. Accessing the information contained within the mobile app will require the user to login with their username and password similar to the desktop version. Support for SSO for the mobile app will not be available in October, but will be available by year's end.