Webinar Recording
Topia Virtual Summit – Taxes, Movement and People – Why you need Global Talent Mobility right now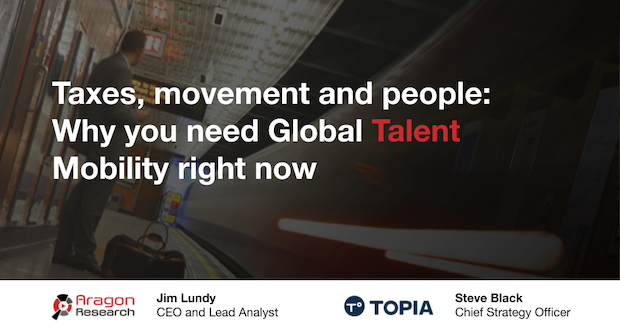 Presented by:
Jim Lundy, Aragon, CEO Founder, and Lead Analyst
Steve Black, Topia Chief Strategy Officer
Session Description:
In a post-pandemic world, the physical movement of human capital from one location to another is becoming a local, national, and global cost and productivity issue. Global Talent Mobility is the newest category in the evolution of Human Resource Management focused on tackling these tough issues including managing the growing variable costs of payroll taxes, cost and complexity of moves, and knowing where people are at any point in time around the world. Join Topia Chief Strategy Officer Steve Black and Aragon Research CEO and lead analyst Jim Lundy to discuss the key trends in Global Talent Mobility and how this new category of software is quickly becoming a must-have for HR and Management teams.