eBook
Saving New York City UBT in the Age of the Hybrid Worker – & How Technology Can Help.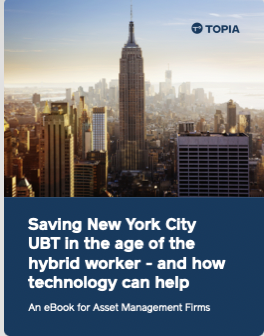 With flexible, hybrid and remote work on the rise, increasing numbers of employees at asset management firms are working in locations other than their company office. For New York-based asset management firms subject to the city's Unincorporated Business Tax (UBT), these changes in employee work locations are hugely relevant. With the city tax based on where work is physically taking place many firms risk overpaying on UBT.
UBT eBook Preview 
In this eBook, we give an in-depth look at the tax implications of remote and hybrid work, and explain how technology can help asset management firms accurately determine where employees are performing work. Learn how Topia's platform is helping its customers hone in on opportunities to avoid tax overpayments and ensure they are audit-ready.
Access your copy by completing the form on the right followed by clicking "Submit" ➟