Webinar Recording
New Risks and Opportunities Emanating from Distributed Workforces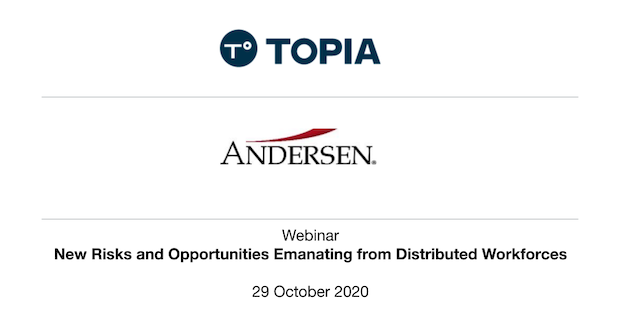 COVID-19 combined with new and evolving employer regulations across EMEA has created distributed workforce-related compliance, payroll, and tax-related challenges – and opportunities.
Whether it's addressing the EU Posted Workers Directive, managing Permanent Establishment risk, preparing for Brexit or tackling changes in Cross Border Commuting habits due to COVID restrictions, organizations need new approaches, tools, and data to effectively manage distributed workforces, remain compliant, and keep employees safe.
Companies that have clear and accurate visibility on where their employees are working can protect against unbudgeted liabilities and take advantage of new opportunities, while simultaneously being ready to manage compliance, defend against audits and avoid penalties.
Join Allessio Rossi and Cord Vernunft of Andersen and Nishant Mittal of Topia as they discuss the challenges organizations face today and how they can effectively leverage distributed workforces while mitigating costly compliance gaps and unexpected tax events by knowing where employees are working.
In this webinar our presenters explore:
Real-world examples of business risks, unexpected costs, and compliance challenges that arise from distributed workforces in Europe
How companies can use utilize employee location data in an effective way to eliminate compliance risk and reduce costs
Best practices for optimizing distributed workforce compliance and protecting your employees and business