Webinar Recording
Managing the Impacts of Brexit: Immigration and Tax compliance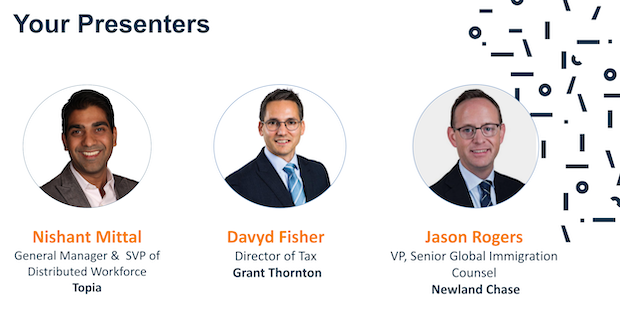 With the UK's exit from the EU, new immigration and social security rules have come into effect that impacts how UK citizens travel and work in Europe. Prior to Brexit, UK Citizens enjoyed the freedom to travel, live, holiday, and work anywhere in the EU, but this is no longer the case.
New protocols dictate both employers and employees are liable to pay social security to the country in which work is carried out. Immigration rules will allow UK-passport holders visa-free travel for a combined total of 90-days in a rolling 180-day period, which includes both business travel and personal days.
Although these rules are not new to everyone, it is anticipated the EU will place unwavering enforcement to ensure compliance. For companies with employees travelling in and around Europe, having accurate visibility and reporting into where employees are working, and even vacationing will be critical to help manage and protect those employees against immigration and social security risk.
Join Davyd E Fisher, Director of Tax at Grant Thornton, Jason Rogers, VP, Global Immigration Counsel at Newland Chase, and Topia SVP of Business Travel Solutions Nishant Mittal, as they explore the new protocols, and how companies can work to optimise compliance and protect employees from unexpected breaches. We will cover:
EU social security protocols and what these mean for non-EU domicile employees

Immigration and visa regulations for anyone traveling into the EU

How companies can actively reduce the risk of a breach occurring by understanding where their employees are working