eBook
Accelerate your Global Mobility & Distributed Work Programs with Technology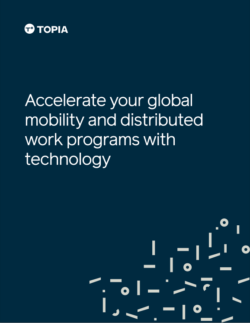 The work of the global mobility team stands to play an important strategic role in transforming companies into more agile organizations that are able to attract and retain top talent at a time when demand for work location flexibility is at an all-time high. But the global mobility function will only truly be able to achieve this if they are able to automate key tasks using technology. If your global mobility program is still reliant on manual processes and spreadsheets, it will become harder and harder to manage the new realities of increasingly distributed workforces in a compliant and scalable way.
In this ebook, we will dive into more detail on how technology can transform an organization's global mobility program by:
Automating time-consuming manual processes
Reducing outsourcing costs
Ensuring you can deliver the best experience for mobile employees, even in the face of increases in scale or complexity.
Access your copy by completing the form on the right followed by clicking "Submit" ➟