Webinar Recording
Get to Know Topia Compass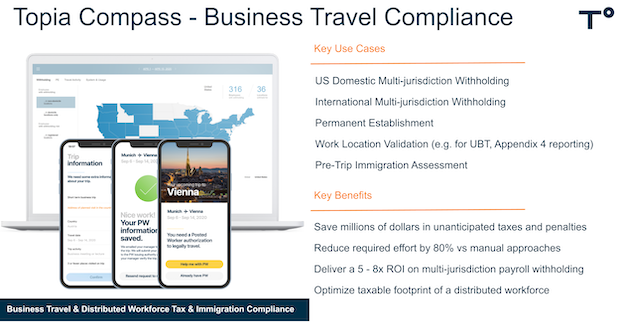 Topia's business travel compliance solution gives organizations the tools and data to effectively manage the compliance challenges created by employee travel and remote and distributed workforces. Learn how organizations are using Topia's business travel compliance technology to protect against overpaying on corporate taxes, mitigate immigration risk, and fulfill their duty of care to employees.
In this webinar recording, join us as we give you a direct look at our business travel compliance product Topia Compass, as well as:
Supported use cases such as: multi-jurisdiction payroll withholding, pre-travel risk assessment, permanent establishment, jurisdiction time monitoring, employee footprint and travel activity, and Schengen compliance
Who benefits from Topia Compass in your organization
A short live demo of our solution
Watch on-demand by filling out the adjacent form.