Webinar Recording
Get to Know Topia Compass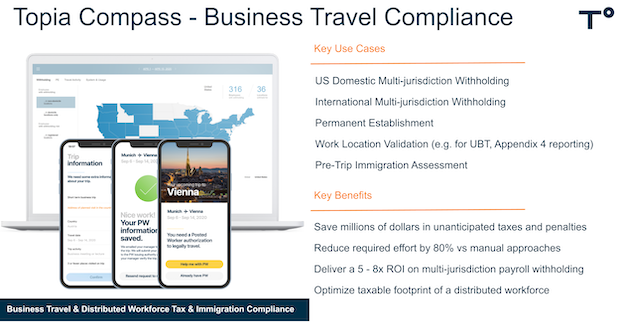 Topia Compass gives organizations the tools and insight to effectively manage compliance challenges and opportunities created by business travel and distributed workforces. During these pandemic times, learn how organizations are using Topia Compass to capitalize on their newly remote and distributed workforces to reduce taxes and enable employee location data to protect employees' health and safety.
In this webinar recording, join Director of Solutions Consulting, Rebecca Applewhite, as she gives you a direct look at Topia Compass including:
– Supported use cases including multi-jurisdiction payroll withholding
– Ways Topia Compass supports safely resuming business travel
– Who Topia Compass can benefit in your organization
– A short live demo of Topia Compass
Watch on-demand by filling out the adjacent form.