MOVE Guides Honored for Providing Best-in-Class Relocation Management Services and Technology in APAC.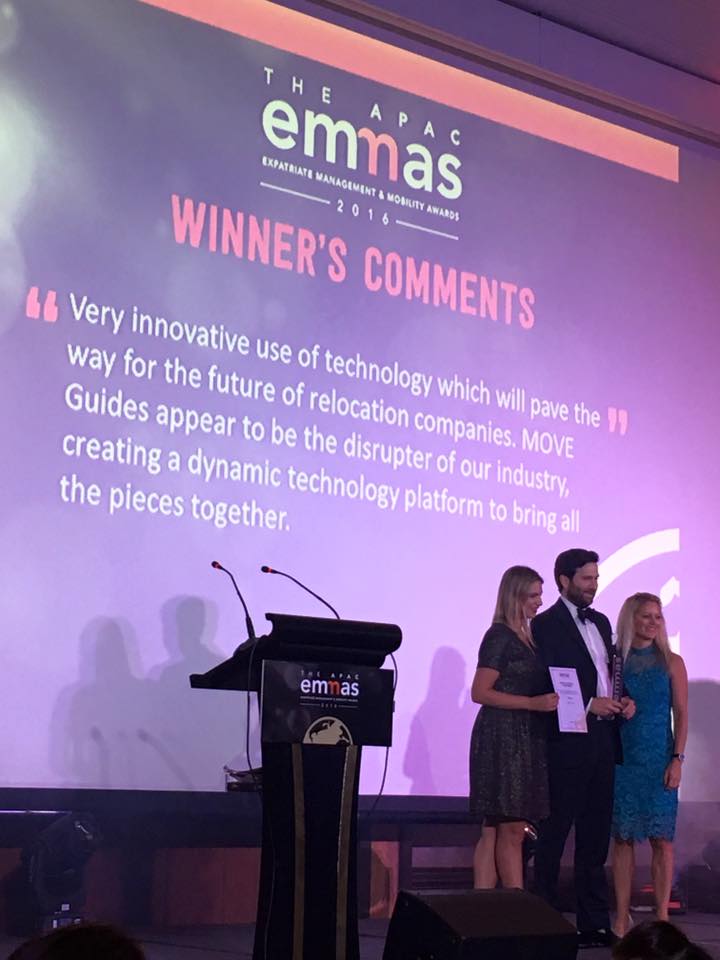 MOVE Guides is excited to announce that it was recognized as Relocation Management Company of the Year in APAC at the 2016 Expatriate Management & Mobility Awards (EMMAs).
Held during the Forum for Expatriate Management (FEM) APAC Summit in Singapore on Thursday, September 8, 2016, the EMMAs celebrate success, best practices and outstanding contribution to global mobility. MOVE Guides was named winner of the Relocation Management Company of the Year category for demonstrating a high level of knowledge and understanding, coordinating the appropriate vendors across various locations and responding to the needs of its clients and assignees.
In particular, MOVE Guides was highlighted for its innovative use of technology, which will pave the way for the future of relocation companies. The company was also noted for being a disruptor of the industry, creating a dynamic technology platform that brings together all the pieces of an international relocation.
"MOVE Guides was founded to challenge the status quo of the talent mobility market, providing a comprehensive, single-platform approach to managing every stage and each detail of an employee relocation," said Brynne Herbert, MOVE Guides CEO. "We are thrilled that the judges of the EMMAs have recognized the strength of our solution — the Talent Mobility Cloud — as well as our dedication to customer service and support to facilitate the relocation process for businesses and, most importantly, their mobile employees."
Since its founding in 2011, MOVE Guides has introduced several innovations to the mobility market. These include instant and configurable cost estimates, which enable businesses to project employee relocation and assignment costs based on company policies, taxation, compensation, foreign exchange, cost of living and more than 25 different types of services, including immigration, shipping and temporary accommodation. MOVE Guides also delivers a single mobility view for easy collaboration among internal stakeholders, employees and external vendors. The result is a streamlined, compliant approach to relocation, while ensuring employee satisfaction throughout.
Additional information about the 2016 EMMAs can be accessed at: http://apac.forum-expat-management.com/awards.