MOVE Guides recognized for transformational enterprise software at Europe's most prestigious tech awards.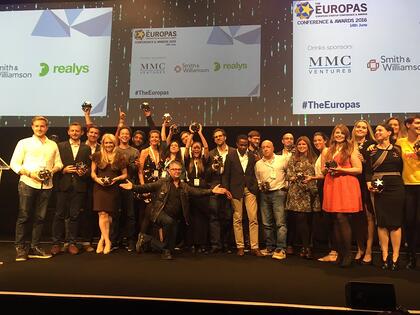 (Photo credit: TechCrunch)
SAN FRANCISCO, CA and LONDON, UNITED KINGDOM–(Marketwired – Jun 21, 2016) — MOVE Guides, which helps HR teams move their employees around the world — to any place, for any reason and for any period of time, won Best Enterprise Startup at The Europas Awards in London on June 14, 2016. Developed in partnership with TechCrunch and Editor-at-Large Mike Butcher, The Europas Startup Conference and Awards recognize the best technology companies in Europe.
"It is an honor to win Best Enterprise Startup this year," said Brynne Herbert, MOVE Guides CEO. "Global mobility is full of manual and fragmented processes. Our Talent Mobility Cloud simplifies the complex so companies can focus time on talent strategy, not administration — from estimating the cost of an international assignment instantly, to reporting on global relocation spend as it's incurred, to coordinating with a global supply chain across 200 countries."
The Europas Awards celebrate the most innovative tech companies across 27 categories. A judging panel of entrepreneurs, investors and journalists selected the shortlist of nominees, which were then submitted for a public vote.
Past winners of The Europas Best Enterprise Startup award include Pipedrive, DataSift, DataHug, Podio, Tradeshift and Huddle.
In an industry where incumbents report average yearly growth of less than 5 percent, MOVE Guides has grown by more than 200 percent annually. Key to MOVE Guides' success is a comprehensive solution for large global companies, which combine the Talent Mobility Cloud platform, concierge-level support for employees moving and global supply chain and financial management across 200 countries.
In addition to being named Best Enterprise Startup, MOVE Guides also made The Europas Awards shortlist for the Fastest Rising Startup, while Herbert was a finalist for Startup Founder of the Year award.
Last week, MOVE Guides also announced major updates to its Talent Mobility Cloud, including a cost projection module for international assignments and real-time status alerts and timelines for relocating employees.