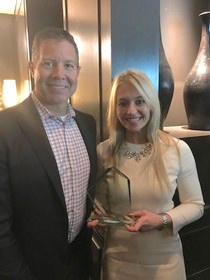 Jim Drill, President of MOVE Guides, and Brynne Herbert, company founder and CEO, receive a 2016 Aragon Research Innovator Award.
MOVE Guides, helping HR teams move their employees around the world — for any reason, any policy and any location — announced today that it was recognized as an Innovator in Talent Mobility by Aragon Research at the firm's annual Hot Vendor and Innovation Awards Ceremony. The awards ceremony took place on December 1, 2016 at the Pullman Hotel in Redwood City, Calif. and brought together executives from firms of all sizes to recognize those who are doing something truly new or different in their markets.
"Aragon Research Innovators are the experimenters whose risks paid off. They are truly ahead of their peers, and will help guide their market in a new direction," said Jim Lundy, Aragon Research CEO. "Aragon Research recognized MOVE Guides as an Innovator because it leverages emerging technology to offer an intuitive, easy-to-use and compelling platform that will change the way companies move and manage their global talent."
"More companies today find themselves deploying talent around the globe to grow their businesses and reach new markets; yet, managing the many processes and costs involved with employee relocations has traditionally been a challenging and disjointed endeavor," said Brynne Herbert, CEO and founder of MOVE Guides. "Our Talent Mobility Cloud platform was developed to remove the complexity, offering a single system to automate global mobility business processes, connect and manage a global supply chain, and centralize talent and spend data related to attracting and deploying talent globally. We were honored to be formally recognized at the Hot Vendor and Innovation Awards ceremony for this revolutionary approach to global mobility management."
MOVE Guides released the latest version of its Talent Mobility Cloud earlier this year. In addition to providing employee relocation management and support, global supply chain management and centralized data and reporting, the latest updates included an instant and configurable cost estimate module to project the costs of any relocation or expatriate assignment with fully loaded benefits, supply chain and taxation logic . To learn more about the Talent Mobility Cloud, visit: https://www.moveguides.com/products-and-services/talent-mobility-cloud.