This press release was originally featured on MarketWired.
SAN FRANCISCO, CA and LONDON, UNITED KINGDOM–(Marketwired – Jun 14, 2016) — MOVE Guides, which helps HR teams move their employees around the world — for any reason, to any place and for any period of time, today announced updates to the HR and Employee Hubs in their Talent Mobility Cloud.In this quarterly update, MOVE Guides further simplifies global mobility processes with cost estimates for employee relocations and expatriate assignments, and improves the employee relocation experience with real-time status updates during relocations, among other updates.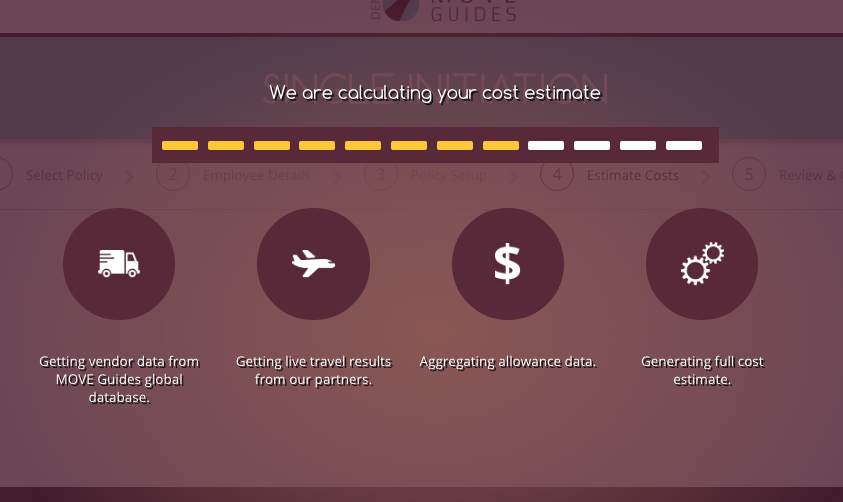 Instant Cost Estimates for Relocations and Expatriate Assignments
"Companies are getting lost in the complexity of planning and accruing for the cost of an employee move or expatriate assignment, and reporting on the actual spend incurred," said Brynne Herbert, Founder and CEO of MOVE Guides. "Traditional relocation companies create cost estimates manually, relying on many people behind the scenes to create the estimate. This is rife with errors and delays, and makes scenario planning difficult for HR and business units."
Projecting relocation and assignment costs requires logic for company policies, taxation, compensation, foreign exchange, cost of living, and travel plus the cost of more than 25 different types of services like immigration, shipping and temporary accommodation, spanning all major countries, routes and currencies.
MOVE Guides simplifies the process with an intuitive real-time engine powered by data from their global supply chain, robust tax, compensation and policy logic, and integrations with travel, FX and cost of living providers. The module is fully configurable by each company, giving customers the option of leveraging MOVE Guides' default integrations or configuring their own preferences.
Enhanced HR and Employee Experiences
MOVE Guides also introduces updates to the HR and Employee Hubs, which make it easier to access real-time information about relocations and expatriate assignments, streamline processes and eliminate redundant data entry.
Updates to the HR Hub
Integration framework for HRIS and ATS systems: Employee demographic and compensation data is needed to initiate relocations and assignments. This data is held in company systems of record, but mobility teams often need to transpose it into multiple word documents to initiate relocations or assignments. By integrating these systems with the Talent Mobility Cloud, redundant data entry is eliminated.
New user experience for expatriate assignment management: Managing complex expatriate assignments requires information on assignment status and location, which is often held in spreadsheets today. The updated user experience for HR teams makes it easier to view real-time assignment management information for each employee at any time.
Updates to the Employee Hub
Dynamic timelines: Relocating employees have many things to do as they prepare for their move and do not have an easy way to manage different services and dates today. MOVE Guides addresses these challenges with a dynamic timeline showing key dates for each employee's relocation with instant updates as services like shipping and home finding progress. Dates are both predictive and actual, so employees know what to expect when at any point in their relocation.
Real-time status updates: Status updates are powered by direct integrations with certified shipping partners — Mesa International, Interconex Inc, Harmony Relocation Network and Pickfords — the first of the kind in the industry. Relocating employees now know exactly when appointments are and where their stuff is throughout the process without the many emails and phone calls to many people that are standard at traditional relocation companies.
Thomas A. Whitaker, Director, Mesa International, agent of UniGroup Worldwide Moving, commented, "MOVE Guides is changing the way people think about workforce mobility. By supporting its technology driven platform, and a relentless drive for effortless transparency, Mesa has partnered with MOVE Guides and its customers to deliver diverse household goods solutions."
To learn more, MOVE Guides will host regional webinars on the cost estimate tool and updates to theTalent Mobility Cloud, with in-house Global Mobility experts. See the links below to register for the webinars, based on time zone.
REGISTER FOR COST ESTIMATE WEBINAR:
June 30, 2016; 9:00 am PDT: https://www.moveguides.com/webinar-ce-june-2016-na
June 30, 2016; 11:00 am BST: https://www.moveguides.com/webinar-ce-june-2016-emea
REGISTER FOR TALENT MOBILITY CLOUD WEBINAR
July 13, 2016; 11:00 am PDT: https://www.moveguides.com/webinar-tmc2-july-usa
July 14, 2016; 11:00 am BST: https://www.moveguides.com/webinar-tmc2-july-2016-emea
Additional information about MOVE Guide's Talent Mobility Cloud can be accessed at: https://www.moveguides.com/solutions-by-function.