Industry leaders come together to reduce cost and friction for the mobile workforce.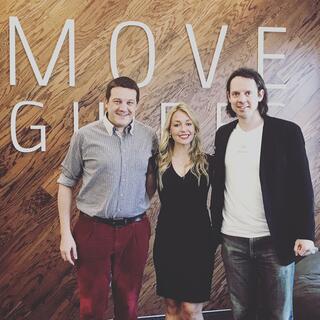 (Sten Tamkivi, CEO and Co-Founder of Teleport; Brynne Kennedy, CEO and Founder of MOVE Guides; and Silver Keskküla, Co-Founder of Teleport.)
SAN FRANCISCO and LONDON (April 3, 2017) – MOVE Guides, which moves and manages the mobile workforce, today announced the acquisition of Teleport. Headquartered in Tallinn, Estonia, Teleport's applications enable the free movement of talent. Terms of the deal were not disclosed.
Jim Lundy, CEO and lead analyst of Aragon Research, commented, "MOVE Guides' acquisition of Teleport brings unique user experiences and location data on cost and quality of life, plus expertise in data science, machine learning and complex automation. It accelerates MOVE Guides' data strategy and furthers MOVE Guides' goal to bring together everything for effective global mobility management."
Teleport was founded in April 2014 by early Skype employees Sten Tamkivi and Silver Keskküla while Tamkivi was an Entrepreneur-in-Residence at Andreessen Horowitz. The company's core product – Teleport Cities – uses data science and matching algorithms to help knowledge workers discover their best places to live and work. Teleport Cities provides income and cost and quality of life data from 260 cities around the world, and served over a million searches by its 250,000 users in 2016. Beyond search, Teleport provides features for on-demand moving advice and automated task lists.
Well-known for having disrupted the siloed and complex global mobility management category, MOVE Guides is growing more than 200% annually and has quickly transformed the efficiency, experience and data analytics for HR teams and mobile employees. MOVE Guides technology replaces the relocation BPOs that have traditionally managed relocations and expatriates, and expands the market to support mobile employees – such as campus hires, rotation programs, and short-term project moves – all from one single platform. Industry leaders including Societe Generale, Morningstar and King.com rely on MOVE Guides for their global mobility management requirements.
MOVE Guides CEO and Founder, Brynne Kennedy, said, "MOVE Guides and Teleport have a shared vision to democratize global mobility through software and data science." She continued, "We are excited to welcome Teleport's experienced team to MOVE Guides and to integrate their products with our offerings for mobile employees and company data analytics."
Teleport CEO and Co-Founder, Sten Tamkivi, added, "We founded Teleport with the vision of helping free people move, by giving mobile millennials access to modern software tools to smoothly get to wherever they need to be to make most of their potential. I am convinced that now part of MOVE Guides, working together for major customers moving employees of all types every year, we will get to that empowering future much faster."
With this acquisition, MOVE Guides adds Teleport's office in Tallinn, Estonia to its growing global presence, across the San Francisco, London and Hong Kong, and accelerates growth of its European technology hub. Tamkivi and Keskküla will join the MOVE Guides leadership team. Teleport Cities will remain live for consumers under the brand Teleport, a MOVE Guides company.