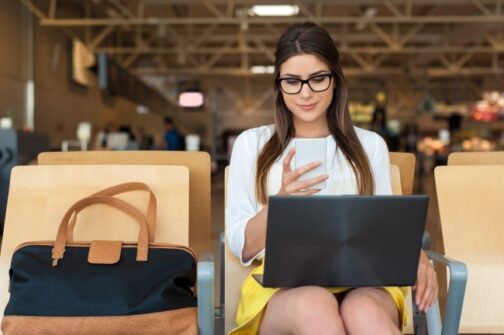 My boss is 12,660 kms away… what it's really like working remotely
Rebecca Applewhite holds the honor of being MOVE Guides' first employee in Australia and is a UK native. We couldn't be more thrilled to have her on our Solutions Consultant team. In this blog post she shares what it's like to be a remote employee, especially when your boss is on the other side of the planet!
After years of working in a traditional office environment, with bosses and co-workers only a step away from my desk, I recently became a 'remote employee'. I am the first, and only, employee in Australia for MOVE Guides. There is no office (yet), and sometimes my boss and co-workers aren't even awake during my working hours.
Remote working used to be a fairly unique arrangement, but as employees and employers figure out optimum ways of working together in a modern, globally mobile world, remote working is growing in popularity. Traditional relocation (moving the employee to the employment) is still a core part of many workforce strategies, but a whole heap of other flexible arrangements have popped up such as commuter assignments, flexible working arrangements, short term assignments and remote working.
Technology has enabled flexibility and broken down the tyranny of distance.
Luckily for me, my new employer's very raison d'etre supports remote working. MOVE Guides was founded on the vision of creating a technology platform that would revolutionize the experience of global mobility, breaking down barriers between people and employers across the globe. I have found my new team to be completely unfazed by the idea of recruiting a sole employee based thousands of kilometers away on a large island continent. The only fly in the ointment so far has been when I referred to San Francisco as 'San Fran', marking me out as an incurable tourist.
The best things of remote working are obvious: the level of flexibility and autonomy as well as the lack of commute time means that I am spending the majority of my time in the most valuable ways.
The worst things may also be quite clear: the lack of face-to-face interaction, the need to self-regulate and the perception of 'slacking off' that still lingers like a bad smell for many doubting employers (not mine!).
Trust and empowerment is surely the basis of any successful employee/employer relationship, regardless of physical location. However, there have been some concrete actions I have taken to ensure that my company's trust in me is not unfounded. Perhaps my new boss has had the odd nightmare vision of me sitting in front of Netflix in my PJs, laptop festooned with chip wrappers, haphazardly sending the odd email or Slack message every now and then. I. This is not the vision I am keen to promote.
I know that while I am mainly responsible for my own hours, I also need to be disciplined, self-motivated and proactive. So what are my top tips for working remotely?
Self-respect – I make sure I shower and get dressed in proper clothes before I get started: no hanging out in track pants. For me this is a psychological boost. It marks the beginning of my working day and affords separation between 'home' and 'work'.
A designated space – Home offices are extremely common these days, and that feeling that there is a separate, designated area or room means I can close the door on any mess/temptations and reset my brain. I also have family rules, as I have young children, and when the door is closed, my family know that I am at work and should not be disturbed.
Ability to get it done – the above point aside, my new role also involves a fair amount of travel and meeting up in various coffee shops. This means that I need to be agile about working in new environments and not be too precious about where or when 'work' occurs. I try to match types of work required to where I'm going to be – eg. High focus activities are best saved for the home office, whereas calls and emails can be done anywhere.
The power of my network – I constantly reach out to my wider network and arrange coffee catch ups in the city. This gives me a chance to interact with other humans and to use the many wifi spots in amazing coffee shops. Some of my network have been amazingly supportive – the PwC Melbourne team has regularly offered to let me work in their office which is a modern, open space with great facilities, a great view, and the chance to bump into inspirational people.
Technology as an enabler – as with any job, regular communication is absolutely necessary and even more important when working remotely. My laptop, my phone, my headphones and my portable power pack are always with me. As a global team, we use internal messaging (Slack), video conferencing (Bluejeans, Google Hangouts) and collaborative software (Dropbox, Google sheets, Salesforce). Many of my previous employers have used various forms of technology in similar ways, but at MOVE Guides constant technology enabled communication is part of daily life.
Willingness to travel – I've been lucky enough to kick off my employment with a trip to San Francisco for new starter training – and nothing beats meeting your new team face to face. I've got several more trips planned for the coming year – it's acknowledged that ultimately regular face to face contact is important, and I couldn't agree more.
Do you think you have what it takes to work remotely?