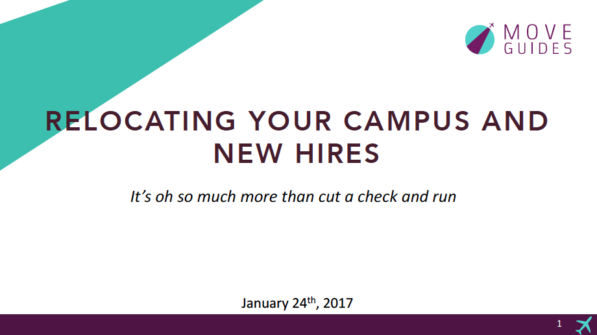 Webinar Recording and Slides – Relocating new campus hires
According to the National Association of Colleges and Employers Job Outlook 2017 survey, employers indicated plans to hire 5.8% more new graduates during 2016-17 than they did in 2015-16 for their U.S. operations alone.
For global mobility teams, graduates or college hires constitute new mobile populations increasingly falling under their remit, with little additional support or resources to scale. Alternatively, for Talent Acquisition teams tasked with supporting these employees, these populations pose a challenge and risk where the complexities of relocation are not core to their role.
Regardless of who is left to support these different types of relocating employees, each mobile employee population requires unique support and has differing needs.
In this webinar Jeff Lee, Global Mobility Innovator, examines the best practices in supporting these populations, particularly:
Strategies to manage relocating large groups of college hires;
How to ensure college new hires have a consistent and positive relocation experience;
New approaches to relocate college hires;
Ways to ensure there is accurate insight into all mobile populations even if they are managed by different teams.
Click here to download a copy of our recording and slides from the webinar.