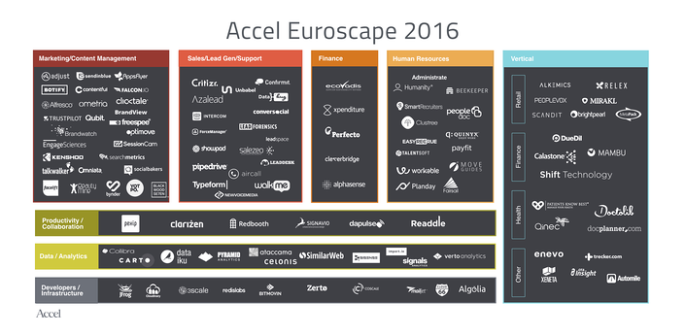 Silicon Valley vs. Europe — building global champions and what's different about each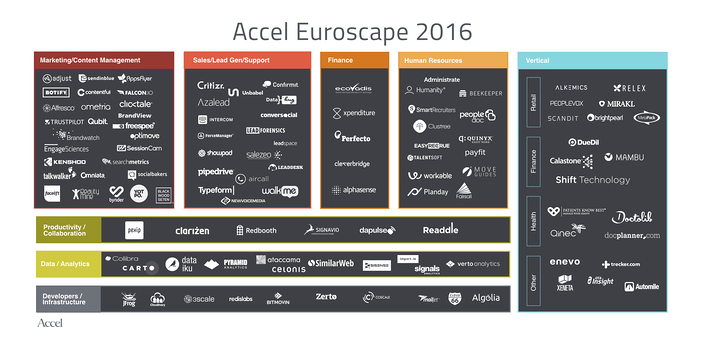 Last month, I attended SaaStock, the first ever European technology conference dedicated to Software-as-a-Service businesses in Europe.Although MOVE Guides is a global company with dual headquarters in London and San Francisco, we classify as a "European SaaS company" much like Zendesk, Tradeshift and others. During the conference Accel released their "Euroscape 2016" report analysing the top 100 SaaS companies in Europe and Israel — MOVE Guides is one of them! The report further focuses on 28 companies that have raised more than $30 million, of which MOVE Guides is also one.
The report notes that European SaaS companies tend to excel in building either (i) local SaaS champions connecting businesses to consumers, or (ii) B2B global platforms. At MOVE Guides we know this well as we are building the first platform for the global mobility management market. Global mobility is the ultimate global platform, where global companies,their employees and vendors around the world interact to deliver relocations and international assignments. To do this successfully, you must facilitate workflows across dispersed global business units, move employees across borders and manage complex supply chain management, expense management, payments and tax categorization across all 200 countries and territories globally. We founded MOVE Guides as a global company from day one and today we have global customers with headquarters ranging from New Zealand to Germany to Thailand to California.
I continue to believe that London (and Europe) is a great place to build a global company. London is cosmopolitan, connected and international. The economy is used to dealing in many currencies, many languages and with many countries and nationalities. No one in Silicon Valley has ever disagreed with me on this — despite evident confusion during our early funding rounds and recruiting on why I founded MOVE Guides in London
Yet, at the same time the UK economy (and other European economies) is small in comparison to its US counterpart. As a result, startups must think about "going global" very early — dealing with the complexity of entities, currencies, dispersed teams and diverse customers, and building a blueprint to replicate globally. US startups, by comparison, have a large and fairly homogenous national market to operate in first. It was frequently discussed at SaaStock that the European Union may be a bigger market than the US but it is immensely heterogeneous. Regulations, customer behaviours, languages, personalities, can vary greatly by European country, where for the most part, they do not by American states.
In the US, you can build a very large company without thinking beyond the US. You can be a mature company before expanding internationally. For the most part, you cannot in Europe. You must expand early, build diverse teams and build an organization that understands complexity. At MOVE Guides this has been even more acute — global scale is almost a completely binary barrier to entry for selling global mobility solutions (we now operate across nearly every country in the world).
I split my time almost evenly between the US and UK and observe these differences regularly. When people debate the perennial question of Silicon Valley vs. London, my answer is always "Different strokes for different folks." There are pros and cons to both. Europe wins out on diversity and global ambition. We all know that diverse teams perform better, and you rarely see a European tech company that is filled with white British males. Instead, you find men and women of many nationalities and backgrounds. You'll also rarely find a European founder who doesn't talk about ambitions to enter Asia and America, speak eloquently about opportunities in Africa and know the nuances of operating across the European Union. It's why we have great startups of all types that are inherently global — Transferwise for international payments, WorldRemit for remittances and MOVE Guides for international mobility. All of us founded these companies as immigrants to the UK after facing our own challenges living global lives.
Silicon Valley however wins out on capital, leadership and pace. As the Euroscape report also points out, European SaaS companies raise 30–40% less than their US counterparts at a comparable stage. At MOVE Guides, we've solved these problems by raising our Series A and B rounds from the great folks at NEA, recruiting experienced SaaS executives in Silicon Valley, building dual headquarters, and connecting our European and Silicon Valley teams as much as we can. As the CEO, it's my job to make sure diversity, global ambition, pace and capital cross the Atlantic.
As the report pointed out, it takes an average of 10 years to build a successful SaaS company, so there is much success to come in Europe. There is market awareness from the work of Philippe Botteri and the Accel team, and examples of success from people like MOVE Guides' Board member Jos White who founded MessageLabs and sold to Symantec for $700 million. The momentum was palpable in Dublin last week. I left feeling proud of Europe and proud of our global ambition. As I gear up for spending 50% of my time in Silicon Valley in October and November, I am more motivated than ever to champion global companies.
Originally posted in Across the Ocean, Brynne's blog on building a global company.