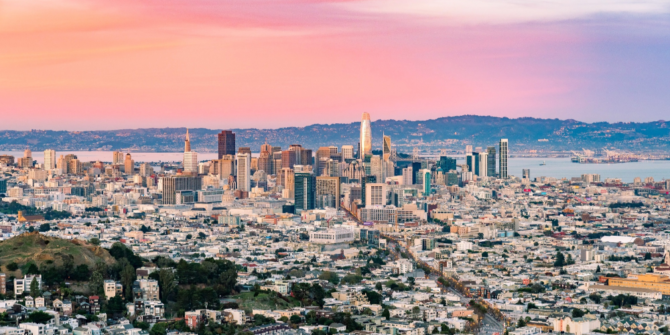 Global Mobility – What it's really like to move your family 7860 miles for work?
Topia isn't just a company that provides mobile talent management software solutions. We regularly relocate our own employees to fill crucial roles, and many of our team have experienced a relocation at one point in time. Earlier this year, Topia Account Executive Nick Martin relocated from Melbourne, Australia to the San Francisco Bay Area. In this article, Nick shares the timing and personal considerations that went into his move. In doing so, he provides a perspective not only for those considering relocation, but also those who manage mobility, and the hiring managers who request an employee relocation.
October 2018 – The seed is planted
This relocation story begins with a conversation with my Global Head of Sales about the prospect of relocating to the West Coast of the USA, based out of our Head Office in San Francisco.
November 2018 – The spouse discussion
Once I have determined that this is a real opportunity, I float the idea of doing something different and trying new things in a new country to my wife. With three children under five to manage, my wife has a lot going on. She therefore thinks I am trying to add some welcome candor to our Monday evening.
December 2018 – The questions
The conversations at home progress past the initial shock and apprehension to:
"What would that mean for us as a family of 5?"
"Where would we live?"
"What's San Francisco like?"
"What about our family & friends?"
"Isn't SF one of the most expensive cities in the world to live?"
"We have three small children, why unsettle them right before school starts?"
"Are visas even accessible for a family like us?"
<Insert 500 other questions here>
The list of tasks to think about at both your home and host location go on and on to the point that if you get bogged down in that list, you wouldn't even bother. Too hard.
January 2019 – The possibilities
With contract negotiations now in earnest, the big picture perspective of what we are potentially about to embark on becomes evident. The positivity and endless opportunities of relocating to what many had described to me as "The Edge of Paradise" start to become apparent, and outweigh the negatives of not going.
The process of preparing yourself and increasing your knowledge of what it takes to make the move of your life engulfs you. Anyone you vaguely know who has moved to San Francisco, The States, anywhere in the world – is on speed dial for questions relating to the move. Moving becomes the only thing you think about, the only thing you talk about at home, and focus on other 'normal' daily tasks take a back seat. YouTube Kids becomes a part of the family like a wiley old labrador.
All the while, you still haven't finalized your contract, so you don't know if it will happen. Therefore you haven't told friends and family yet in case it doesn't happen.
February 2019 – Contract signed
Contract signed – the amount of work that has gone into ensuring the terms are equitable for both me as the assignee and also the company is enormous. Both parties want this to be a successful overseas transfer, so we work together to reach an agreement. This process involves the CEO, CFO, Legal, and of course, the tireless work of our HR team – who in an SME like Topia – manage the Mobility function as well.
The contract includes an initial start date in April, which seems feasible at the time.
We're leaving soon. Better get organized.
However you can't lock anything in yet. Not until you have your 5 Visas approved by the US Consulate: booking flights, setting a departure date, temp accommodation, transportation, cancelation of all services in Melbourne, rent out the house, sell the car, book the movers. None of it. You can find out what you need to do if and when your Visas are approved, but you can't action any of it until they are actually approved.
March-May 2019 – Limbo
Immigration lawyers are drawing up the required documents. The HR team fills out countless forms about why my background is suitable to my position, and we wait for an appointment time at the Consulate. Meanwhile, we wait, and we wait, and we wait. All the while, assuming we are moving our family overseas, but still not genuinely knowing for sure.
May 14th – The interview
Finally, all the paperwork is submitted, and we arrive at the US Consulate and complete this crucial part of the process.

May 19th – Approved!
Visas Approved.
May 19th – May 28th – Shut down/Open up
Quick – action everything you need to do to close your life down in Australia and open a new one in the US.
May 29th – Moving Day
"Do you have a Sherpa to help you move your life on a plane, Sir?"
May 29th – current – Settling in
"What do you mean my Social Security Number was sent to me two weeks ago?"
Moving 7860 miles – it sounds a lot longer in Kms – is a convoluted process. The minute detail of what the assignee and Mobility team need to do to ensure this is a successful move cannot be understated. When you have a 1yo, 3yo and 4yo it naturally adds an extra element (or 3).
The reason for writing this article is not to scare future assignees away from uprooting and creating a new life in a new location. I consider my family lucky to live in Marin County, literally 'The Edge of Paradise.' It's also not to shamelessly plug the tools I utilized from Topia that made this transition a whole lot easier than what it otherwise would have been.
The reason I wrote this was to give some perspective on what it is actually like for an assignee to consider, evaluate, then finally complete an international move. Moreover, how important it is for employers to keep this front of mind. Everyone's circumstances will differ slightly (or grossly) to the next, but the principles remain the same:
HR/Mobility teams are trying to move their employees (and their families) as quickly, efficiently, and cost-effectively as possible. Simultaneously HR must manage the expectations of the hiring manager, and the needs and considerations of the employee and their family.
Assignees are trying to ensure that their lives are disrupted as little as can be. They want to settle into their new environment as quickly and seamlessly as is humanly possible – with little or no personal financial impact.
The result usually is one of two outcomes:
(i) The move is considered a success (parameters will vary for every company and individual)
(ii) The move is considered a failure – employees either go home or move to another company
My move is certainly in the (i) category at this early stage, but the real test of these two outcomes will not be fully visible until the 12-24 month mark of our life-changing move.
Regardless of our outcome, I will always be eternally grateful for the opportunity to experience something new for myself and my family.