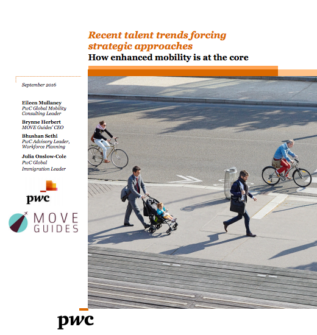 New White Paper with PwC – Recent talent trends forcing strategic approaches: How enhanced mobility is at the core
72% of CEOs in PwC's latest survey say that are worried about the availability of key skills. The expected scarcity of resources is a growing economic concern. MOVE Guides and PwC, our strategic partner, released a new thought-leadership piece to discuss how mobility is at the core of this critical talent trend.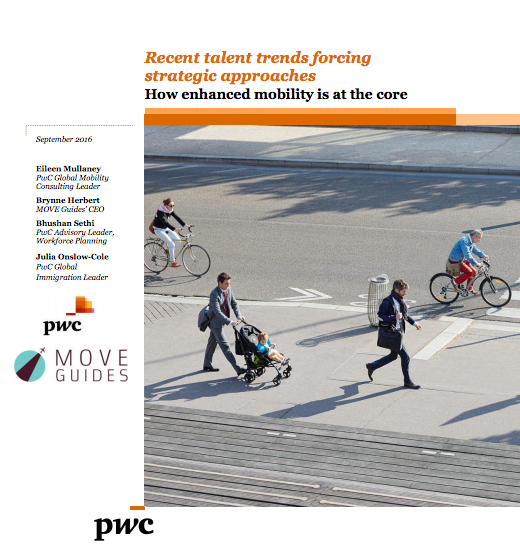 Talent scarcity does not necessarily mean a lack of people around the globe, but rather a lack of people with the right skills and abilities. This trend is already affecting a broad swath of companies and is expected to worsen in the coming decades. Entirely new skills will be needed by organizations and society for the future coupled with a reduced demand for certain traditional skill sets. These challenges facing business are made more difficult by the growing demand by employees and businesses for alternative work arrangements that promises to impact where and how employees will want to work.
In this piece, PwC's Workforce Planning, Mobility, Immigration specialists and MOVE Guides' CEO Brynne Herbert, answer the questions: How are leading organizations dealing with talent shortages in key parts of the world (developed vs. emerging), in certain sectors and within their organizations. What are the new skills that organizations and society need for the future? And how are organizations ensuring that their talent today is mobile ready (from a tax, immigration, policy and technology perspective) –– a state of mobile preparedness that meets the specific business' talent needs.
Click here to download a complimentary copy of our new whitepaper with PwC.