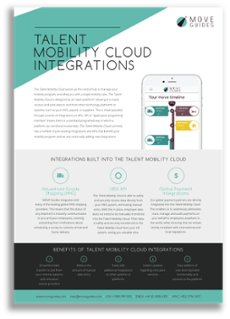 *New Factsheet* Talent Mobility Cloud Integrations
The Talent Mobility Cloud is designed as an "open platform" allowing it to easily receive and send data to and from other technology platforms or systems, such as your HRIS, payroll, or suppliers.
This is made possible through a series of integrations or APIs. API or "application programing interface" means there is a standard programed way in which a platform can send and receive data. The Talent Mobility Cloud currently has a number of pre-existing integrations and APIs that benefit your mobility program and we are continually adding new integrations. These include Household Goods Shipping (HHG), HRIS APIs and global payments integrations.
Click here to download a complimentary copy of our new factsheet outlining the latest updates to the Employee Hub.