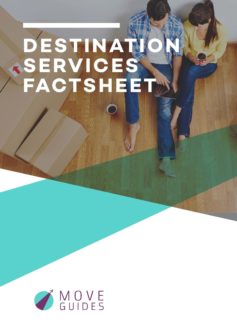 New *Factsheet* on Destination Services
Imagine you're going through a global relocation and trying to set up your new life. Finding an apartment, getting your kids enrolled in school, opening a bank account, getting your mobile phone—seemingly standard tasks that most people have to deal with.
However, when you throw in the complexities of a different language, competitive real estate markets that seem to penalize foreigners, international schools with three year waiting lists and different legal systems, your first few exciting weeks in your new home can feel like the country just doesn't want you there.
Destination Services is a term used to describe the assistance provided to an employee and their family to support them as they transition to a new location (or back to their origin location). They can usually be broken into two categories:
Those that support the employee when they are leaving for or arriving at a new destination, such as help finding a home, finding schooling or an area tour of their new location, and
Those that support the employee when they are leaving that destination and returning to their origin location, such as help closing leases, disconnecting utilities and terminating subscriptions.
Destination services can be a lifeline to a relocating employee and their family—providing them with a local, experienced helping hand to navigate the challenges of their new city and get them settled in and working in their new roles.
A list of the types of services that can be provided, along with definitions and potential use cases, can be found in our new factsheet on destination services. Click here to download the full factsheet!
—
MOVE Guides helps HR teams move their employees around the world — any reason, any policy and any location. MOVE Guides partners with leading multinational companies to deliver a full global mobility program across 200 countries and territories with their Talent Mobility Cloud platform, concierge-level support for employees and a global supply chain of partners.