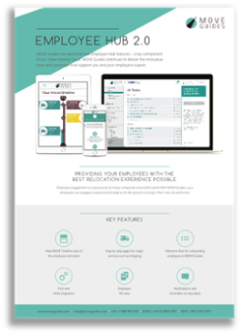 *New FactSheet* Employee Hub 2.0 Updates
MOVE Guides has launched new Employee Hub features – a key component of our Talent Mobility Cloud. MOVE Guides continues to deliver the innovative tools and concierge-level support you and your employees expect.
Employee engagement is a top priority for many companies around the world. With MOVE Guides, your employees are engaged, prepared and ready to hit the ground running in their new city and home.
Click here to download a complimentary copy of our new factsheet outlining the latest updates to the Employee Hub.