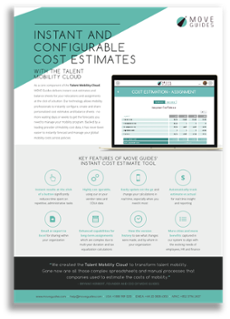 *New Factsheet* Cost Estimates
As a core component of the Talent Mobility Cloud, MOVE Guides delivers instant cost estimates and balance sheets for your relocations and assignments at the click of a button.
Our technology allows mobility professionals to instantly configure, create and share personalized cost estimates and balance sheets – no more waiting days or weeks to get the forecasts you need to manage your mobility program. Backed by a leading provider of mobility cost data, it has never been easier to instantly forecast and manage your global mobility costs across policies.
Click here to download a complimentary copy of our new factsheet outlining the latest updates to our instant cost estimate tool.