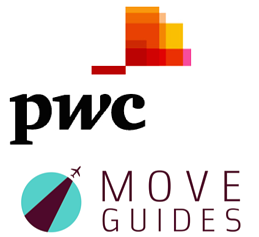 MOVE Guides Joins Forces with PwC to Enhance Talent Mobility Offering
Big Four Consulting Firm Collaborates with MOVE Guides to Provide Comprehensive Approach to End-to-End Global Mobility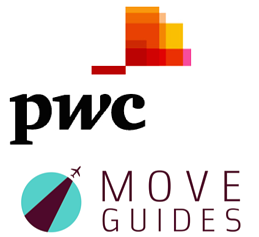 MOVE Guides is excited to announce a new collaboration with Big Four consulting firm PwC, to integrate our Talent Mobility Cloud and services with PwC's global mobility tax, immigration, consulting and compliance offerings.
MOVE Guides will collaborate with PwC's Global Mobility Practice to provide customers with an end-to-end global mobility solution to support their mobile employee population.
This relationship provides a unique global mobility offering to the market. The integrated offering gives customers immigration, tax, consulting and relocation services underpinned by a single cloud based technology for the first time.
"Companies continue to struggle with the complexities and risks associated with global mobility," stated MOVE Guides' CEO and founder, Brynne Herbert. "According to our recent survey of mobility professionals, only 18% stated that their current mobility program meets expectations. Additionally, the survey found that talent mobility was the most time-consuming and complex HR function. As companies scale globally, managing mobility without technology is no longer sustainable."
Peter Clarke, PwC Global Mobility Practice Leader, provided his insight on key industry trends, stating, "As the needs of our clients to source and mobilize talent continue to increase and as the future of work evolves, the nature of talent mobility continues to shift in fundamental ways."
By integrating MOVE Guides' technology platform with PwC's data and best practices around tax and immigration, our combined solution can simplify and enhance global mobility management, services, and finance, while delivering a dramatically better experience to employees who are moving.
Dom Hammond, PwC Mobility Technology Services Co-Leader echoed his excitement for the collaboration stating, "At PwC we continually strive to bring an agile, adaptive and connected approach which keeps our clients ahead of the compliance curve and delivers a differentiated experience for both corporate users and employees. We believe our partnership with MOVE Guides will best position our clients for the future of talent mobility."
Interested in learning more about this exciting collaboration? Contact a member of our team today at info@moveguides.com.