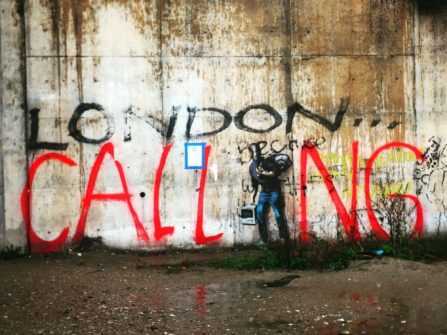 Into the Jungle — The Calais Refugee Camp and Why It Matters
Civilizations fall apart when we stop caring for our fellow man" — Help Refugees
Two weeks ago, I visited the Calais Jungle refugee camp days before it was to be demolished by the French government.I made the trip with Founders Pledge, a movement started by the amazing Dave Goldberg where founders pledge 2% of exit proceeds to charities and with Help Refugees, a non-profit organization started by the equally amazing Josie Naughton to help support refugees through donations and volunteer activities.
According to data from Eurostat, more than 1.3 million migrants arrived in Europe in 2015, three to four times more than in 2014. In June, the UN's refugee agency reported that there are now more than 65 million refugees worldwide (one out of every 113 people on earth), meaning that there are more displaced people now than at any time in history, including post WW2. This is a defining global demographic shift and one that has brought out the best and worst in governments and citizens worldwide. How we continue to respond as a global community will have implications for our societies, economies and politics for decades to come. More than anywhere else, the Calais Jungle symbolizes the refugee crises with its politics, desperation and success stories.
Calais is the closest point in continental Europe to England and a major port of call for the Eurostar train and English Channel transit. The Camp, protected by electric fences and armed guards, was once filled with 10,000+ refugees (including 1,300 unaccompanied children) who completed journeys across Continental Europe with hopes of reaching the UK. Many of them have rights to live in the UK through family ties and under the UN Refugee Convention, but the politics of housing them in Calais and welcoming them to the UK has been extremely contentious and surprisingly few have actually reached the UK. The French government has carried out evictions and demolitions of the camp, pledging to distribute refugees to new locations throughout France. When we visited, no one knew where these locations were or how the eviction would work and fearful preparations were under way. Reports this week declare the Camp destroyed and burned, with refugees moved to 450 centres in France where they can seek asylum. More than 1,000 children are rumoured to be alone in temporary locations.
As politicians have wrangled over refugee crises, international aid organizations have been conspicuously absent. Help Refugees has stepped in to fill the void, running operations in Calais and Greece where they manage warehouse full of donations – clothes, food, bikes, backpacks and much more – and distribution to refugees. When we were in Calais, they were preparing a backpack for each refugee for their eviction journey with ponchos, water bottles, flashlights and clothing. The warehouse was run by a rotating set of managers and a group of volunteers who live together in nearby hostiles and spend their days cooking food, sorting through donations and visiting the Camp. The volunteers come from many countries and spend varying lengths of time working with Help Refugees. As one volunteer said to me: "This is immensely difficult and draining work, so we can only last for certain periods of time." I was shocked by both the scale and sophistication of the operation (it could have been the distribution facility for any e-commerce business), and the altruism of those volunteering. For me, it was a strong reminder of the power of humans – from all walks of life and all nationalities – to come together and support one another for the greater good. It was also a reminder of the power of private enterprise to mobilize and make quick contributions to large global challenges.
The visit to the Jungle was moving in both the sadness and desperation of the Camp and the strong sense of community and hope amid the refugees, many of whom were about to be evicted to unknown destinations. There were deplorable living conditions with messages of hope spray painted on the walls of shanties; refugees who had taught themselves English amid a two year journey across the Mediterranean in preparation for British shores and those who had grown bitter that they may never make it; lunch time music, dancing and singing with a sense of culture and community often absent in our busy western societies; and an entrepreneurial spirit that materialized in an unexpected micro-economy of restaurants, stores and artists in the Camp. I left feeling saddened that we live in a world with conflicts that we cannot solve, which sends people into such desperate living situations.I also felt inspired by the resilience, faith and enterprising spirits I saw among both the refugees and Help Refugees volunteers.
According to a recent article in Harvard Business School Review entitled "Why are Immigrants More Entrepreneurial", immigrants represent 27.5% of entrepreneurs in the US but just 13% of the population, with similar data across 69 other countries. Research conducted in Austria shows that those with long term cross-cultural exposure generate business ideas that are 27% better (as judged by a panel of experts in the study) than those in a control group and are more likely to innovate as a result of their diverse experiences. Our diverse experiences are what help us generate ideas, start companies and take risks. There is no more diverse cross-cultural experience and resiliency than, for example, moving from middle class life in Syria through a dangerous journey across land and sea, to a desperate refugee Camp in France to a new life in the UK.
At the entrance of the camp, the iconic Banksy image of Steve Jobs reminds us that some of the world's greatest entrepreneurs and leaders were once immigrants. As the refugee crises looms on and the world confronts challenges like demographic shifts, skills shortages and slowing economic growth, we should be having global conversations about how to make global mobility and migration easier and how to nurture the entrepreneurial spirit of our refugees. With the right government leadership and the work of organizations like Help Refugees and Founders Pledge, I hope that the legacy of today's conflicts will be a more open migration system that benefits the world.