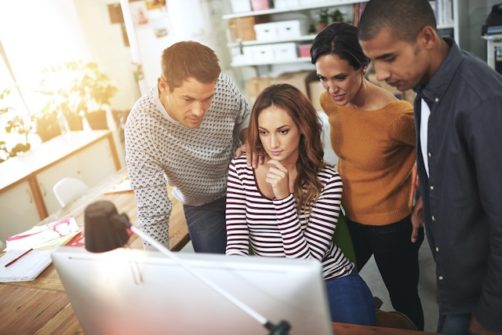 Intern Mania! If you haven't started your intern program planning for 2017, it's not too late to start.
It's the height of intern planning season, so we're reflecting on how companies can better support intern programs.
In an increasingly cut-throat job market, internships are key to maintaining a competitive edge, developing skill sets and expanding professional networks. To keep up with the competition, college students are seeking opportunities across the country – or even the world – in search of bigger, better and more enriching intern experiences to set them apart from their peers through global mobility management.
The burning question for today's businesses looking to hire interns should be, if college students are so eager to find these opportunities, do companies need to double-down on their efforts to attract these go-getters? The answer is yes!

College students who are excited by the idea of embracing new experiences, toughing it out in a foreign country or taking themselves outside of their comfort zone are also the same individuals who make great employees.
While it may seem like an additional effort to attract these interns, It will certainly pay off in the long run to invest in your future talent pipeline.
Here are some simple steps that you can take to create a world-class internship program and empower the future titans of your industry!
Start your planning early
Think again If you're waiting until the spring to kick-off your intern planning. The best housing locations and prices go early, so it pays to get started before the start of your current intern year.
Provide guidance and support
Today's interns are tech savvy problem solvers, but need guidance when approaching the unfamiliar (like moving cross country for the first time). Supporting interns not only reduces their stress and promotes a more positive experience for the individual, it also helps to ensure they reach a high level of productivity for the short time they are working at their company.
Providing them with a smooth transition doesn't just maximize their internship experience, it also shows you what they're capable of at your company. Come the end of summer, not only will you know who your top performers are, you will also have given them an experience that will encourage them to come back post-graduation – a win-win!
Create a community
Attracting a top-notch intern force who you also plan to hire in the long run often requires establishing a community for "out-of-towners". For example, interns are used to dorm style living and appreciate the comradery and friendships they develop from those close-knit communities. It's worth the extra effort to implement a match making program for roommates and providing social events for interns to get to know each other. This sense of community transfers to the company hosting the internship, leaves a positive influence on the intern and increases the likelihood of them accepting a permanent offer, if one is made.
Don't just cut a check
It isn't enough to just offer a lump sum policy to help interns book a flight or find housing. It's impersonal and the funds often don't go to the right areas of the relocation required for a smooth transition. Your company may also miss out on tax benefits of paying certain expenses directly. Remember, you're the experts in moving employees, not the employee themselves, so provide them with the support they need for an easy move.
Promote all the benefits you are offering to interns!
It is a best practice to promote your program with a brochure style document. This helps arm your campus recruiters with the tools to get the word out about your company's unique intern benefits. Half of the value in creating an awesome intern program is it being used to attract the best of the best!
When it comes to planning your internship program, you don't have to go it alone. With MOVE Guides' assistance, you can create a program targeted at supporting your intern population on the move and designed for th. With helpful city guides, check-lists, document storage, unique funding options and HR dashboards to track the progress of your summer hires, you can relocate your workforce with ease and efficiency. We make it simple to keep track of their lump sum allowance vs. spend and provide them with all of the information they'll need – including personalized company pages!
Check out our latest factsheet to learn how you can make sure your intern program stands out!