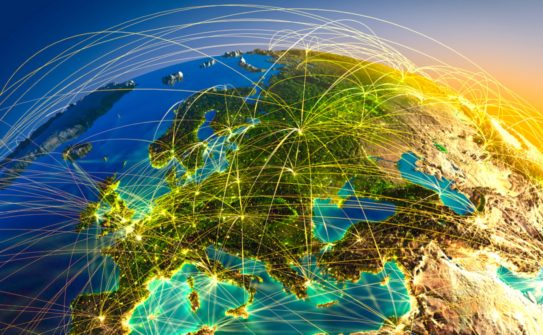 Global Mobility Moonshots
Five Trends that will Shape the Way Companies Manage and Move Global Employees
I attended the Wall Street Journal Digital Conference (#WSJDLive) with business leaders from around the world discussing the future of business and society. Topics ranged from the future of entertainment to artificial intelligence, autonomous vehicles, government policy and genetics.
During the conference, I had the opportunity to share what we are up to at MOVE Guides on Facebook Live, and to talk about some of the major shifts I'm excited about for global mobility management. At MOVE Guides, it's our mission to make it easy to move around the world. We provide companies with a solution to automate their business processes associated with moving employees, to manage their supply chains of vendors across 20+ categories and 180+ countries, and to analyze data about where employees are, how much they are spending and how effective their mobility investments are – both in monetary and talent terms. Much of the emerging technology and political landscape will impact the future of global mobility management, but five major trends particularly stand out. Below are the global mobility "moonshots" that I believe will shape the future for our customers and our industry:
1 — Open borders: Attendees at WSJD are distinctly international. I had discussions with Chinese companies about going global, US companies about recruiting globally and nearly everyone about the fluidity of their labor force today — employees moving in many different ways for projects, relocations, internships, freelance work, business travel, commuting and assignments. This week at MOVE Guides, we moved a customer's employee to Cuba, and last month I wrote about seeing an increase in employee mobility to Burma. The world is more global than ever and companies are moving their employees to a greater number of countries than ever before to achieve their business objectives. Everyone I spoke to at WSJD was excited about MOVE Guides and our vision for a world where people move freely and easily between locations, but the conversation invariably progressed to immigration regulation being a barrier to growth. In a world where executives confront skills shortages and demographic shifts in many major economies, immigration policy must catch up. I predict that in decades to come we will see a relaxation of immigration policy (at least for skilled workers), which will allow companies to move more people, more regularly and in more ways.
2 — Virtual reality: At WSJD, we visited Mars using virtual reality glasses linked to the Mars Rover. We experienced what it felt like to be on Mars, exploring the planets ancient lakes and rocky red surface through our avatars. I see a big role for virtual reality in global mobility in the future. One of the biggest challenges today with successful employee relocations and assignments is setting expectations for employees and their families before they move. Employees can digest a lot of content about Kenya before they move, but it might still be very different when they arrive — and they just might not settle in well. This puts significant risk on the investment that companies make in their mobile employees, whether it's a project, relocation or expatriate assignment. Misaligned expectations and challenges acclimatizing can result in failed assignments, employee churn and millions of dollars of wasted investment. There are few other parts of a business where multi-million dollar investments are not rigorously analysed for success. With virtual reality, employees and their families could explore destinations through their avatars before relocating and companies could analyse their reactions to local culture and their ability to acclimate before making investments. This will reduce financial and retention risk.
3 — Driverless trucks for household goods shipping: Autonomous vehicles were a big topic at WSJD with leaders from Lyft, Didi and IBM, among others discussing the topic. But driverless vehicles will not just benefit consumers. One of the biggest challenges facing the moving industry is the declining numbers of people who want to become truck drivers. This means that companies will face limits on capacity in the future, and in turn, significant pressure on costs and satisfaction, particularly during the peak summer season. (If I have to wait weeks for a truck to move my stuff, I'm not going to be very satisfied!). This week, Uber-owned Otto made its first delivery of Budweiser with a driverless truck! In the future, we'll see driverless trucks in the moving industry and remove the capacity constraint from drivers. This will be particularly impactful in the peak summer season, where demand often significantly outstrips supply. With driverless trucks and accompanying technology to match supply and demand for shipments, we can optimise shipping supply, prices and timings, delivering value to customers.
4 — Blockchain for supply chain and expense management: Blockchain is a distributed financial ledger that does not require a central intermediary to process payments. This offers a faster, cheaper and more reliable way to make and reconcile payments across borders. One of the biggest challenges of global mobility management today is paying employees and vendors throughout the world, and then bringing this transaction data together into centralized analytics for companies. With blockchain, we could pay employees and vendors instantly, register transactions in a single distributed ledger and quickly analyze transaction data to provide insightful analytics back to customers. With a central banking intermediary removed in payments between parties, the costs of making global payments also falls significantly. With payments efficient to vendors and employees, companies can focus on using transaction data to analyze spend and rationalize supply chain usage.
5 — Scenario planning and predictive analytics: The executives I spoke to at WSJD all wanted to understand how to align their company objectives and global mobility management, and were asking what is the "best" way to move employees. One executive I talked to shared his company's goal — to shift its revenue from largely in the HQ country to a mix of HQ country and international revenue. His job is to "build the systems, data and infrastructure" to enable this. In the future, we'll see companies leveraging data and predictive scenario planning to make decisions about when, where and how to move their employees. IBM CEO, Ginny Rometty, spoke about Watson as the "artificial intelligence platform for businesses". We'll see technologies like Watson in global mobility helping companies predict and measure global mobility success. You'll see analytics driving supply chain and spend optimisation decisions, and customers reducing global mobility spend through higher assignment success rates and more supply chain rationalization. Empowered with this data, executives will be able to quickly deploy talent where it's needed in a cost effective way and achieve their global business objectives.
I look forward to seeing how these five global mobility "moonshots" shape our customers and industry in the future. What a fun time we live in!
Originally posted in Across the Ocean, Brynne's blog on building a global company.