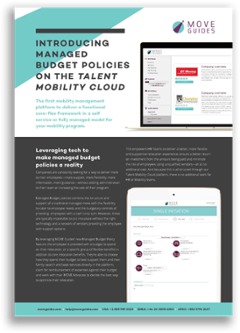 Give Employees What They Want: Mobility policies finally embrace the human element
It's interesting when we're out in the market speaking with customers, prospects, industry peers – everyone emphasizes the need for flexibility and a human touch.
'My assignees are different'
'We're more complex than everyone else'
'We're a really high touch company'
'You can't take the human element out of mobility'
Vendors are expected to be flexible in the way they accept information, provide reports, invoice the customer and speak to employees to account for all the little nuances and things that are important at a corporate level.
However, when it comes to the actual policies that companies use to move people around the world, it's a different experience. Rigidity, a list of 'out of policy' items, lengthy exception approval processes for minute deviations from policy and a somewhat 'one size fits all' approach are common, mainly because the administration involved in handling anything more bespoke or flexible would put pressure on an already stretched global mobility team.
Two years ago, I moved from London to San Francisco with all my worldly belongings. You know what I was most worried about? Putting my 6 month old kitten in the belly of a plane and buying a new iPhone and phone plan in the US. One was going to be emotionally stressful, the other a financial and logistical pain-in-the-butt full of long queues and waiting music at Verizon.
Had I moved with any of my previous employers, or in fact a lot of other companies we speak to, I wouldn't have had any support with these items. Pet shipping, purchase of new goods, etc. are common exclusions from policy, and I would have been offered a 20ft container of shipping, a school placement service (despite having no kids) and 30 days of accommodation. Where's the corporate hug in that?
Luckily, I was given a 'Managed Budget' with MOVE Guides, and was able to flex this to include a premium pet shipment service to go that extra mile in keeping kitty (and myself) calm whilst flexing down on temporary accommodation to just a few days in a hotel. Finally! I felt the company was actually trying to help me with the things that were causing me moving stress, rather than fitting me into a policy box with your standard family of four.
I technically creep in there as a millennial, but I'm certainly not living out of a suitcase and sleeping on my friend's sofa to save money. I have stuff – nice stuff. I want the high touch service. I need someone to come magic my goods into boxes and whisk them over to the other side of the world. I just want to be able to do it on my own terms, in the best way to reduce my own stress.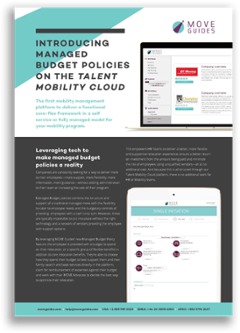 For me, Managed Budget policies (and MOVE Guides' technology for managing them!) is groundbreaking. Just like with the wider employee benefits landscape, employees can actually design and execute their move to alleviate their own personal woes, rather than being given limits, restrictions and 'use it or lose it' support items.
It's bringing the human element back into mobility policy – meeting the core objective of supporting each employee and giving HR the power to deliver the employ
ee experience they've been wanting to with the control and efficiency they'll always need. Pretty cool.