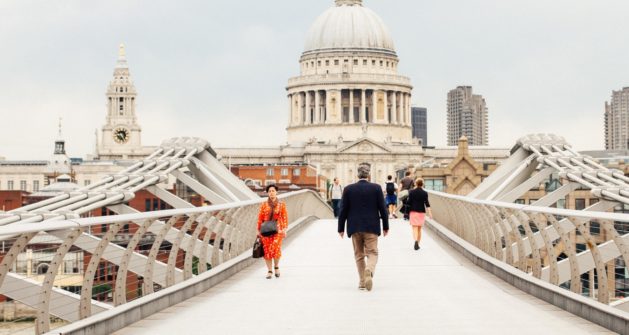 Brexit Relief for European Mobility Teams – or is it?
Sajid Javid recently announced a simple initiative from the UK Home Office regarding the status of European Union (EU) nationals living in the United Kingdom (UK) who'd like to remain post-Brexit. Using a new app and website that are currently in development, EU nationals must make an application to the Home Office to remain in the UK, and the Home Office has said a decision on an applicant's status can be turned around very quickly – some in a matter of weeks.
In theory, this should be great news for anyone working in a European mobility team. According to Topia relocation data, the UK is one of the most popular destination for globally mobile employees – on average, 60% of moves from any country since 2015 were to the UK, though that's been declining since the Brexit vote.
The new app asks EU nationals three 'simple' questions, which are then checked against data from HM Revenue & Customs and other government databases:
whether they live in the UK,

whether they have criminal convictions, and

that they prove their identity.
The idea is to streamline the process and eliminate a lot of paperwork, and we all know that mobility teams are no strangers to bureaucracy (or "bureaucrazy", as we fondly refer to it) – and paperwork!
Dealing with back-office matters when assigning employees to another country can be hugely problematic – especially when you're dealing with immigration, payroll and taxes. Brexit is a huge fly in the proverbial ointment, with the ongoing uncertainty making the immigration side of things a lot harder.
Companies need to ensure a return on investment when moving someone to another country, and if it's feared that an employee may be declined status in the UK, everyone loses out:
the employee loses out on an opportunity to further their professional development,

the UK loses out on talent, and

the company may lose valuable, talented employees
There's no denying that companies are in limbo. The Brexit effect is already taking its toll, with Unilever announcing it's moving everything to the Netherlands, and Airbus and Jaguar Land Rover announcing pending changes to their workforces should a hard Brexit come into force. In financial services, Goldman Sachs, Deutsche Bank, HSBC and JP Morgan are leading the way in shifting many roles to other European hubs, with many other banks and funds right behind them, though exact numbers remain to be seen due to lack of clarification how the UK intends to leave the EU.
Until there is a clear attitude towards EU nationals in the UK, European-based mobility teams are reluctant to hire EU nationals into positions available in the UK. According to Topia data, in 2017, inbound moves to the United Kingdom dropped from 64% of overall moves (2016) to 47% (2017), with Ireland becoming a more popular choice instead. This is likely a direct consequence of the continued uncertainty surrounding Brexit.
Though it's been a long time coming, the Home Office seems to have come up with a good solution: by making things as simple as possible, it can decrease or eliminate this stress on major companies that ultimately support the UK economy. As long as the Home Office responds to applications promptly, using data already in government systems, the proposed app should be a very welcome, pragmatic solution.
All mobility teams will be watching this initiative closely so they can advise their businesses accordingly when planning their strategies for 2019 and beyond. Hopefully 'limbo' will become a distant memory.