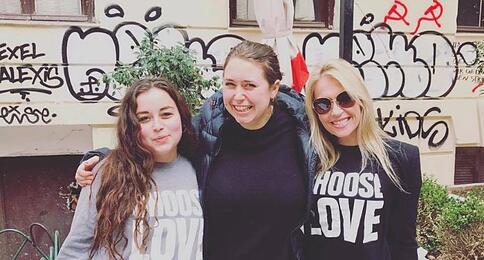 Being the Bold Change We Wish to See In the World – Celebrating International Women's Day 2017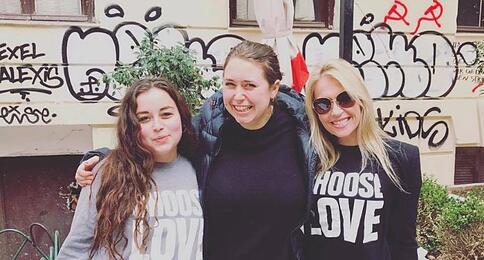 Perhaps one of the boldest changes a woman can embark upon is to uproot her family to break away from a situation at home that is violent and unsafe for herself and for her children. Whether the violence stems from within her own home or whether it is the result of a brutal and unrelenting governmental regime, the decision to leave is rarely an easy one.

Despite the personal risks and the many unknowns, thousands of women every day are on the move to escape persecution and war at home in order to seek a better life for themselves and for their families.
Today's International Women's Day – with its aptly tagged #BeBoldForChange theme – affords us all the opportunity to reflect on the inconceivable yet bold choices that women around the world must make each and every day. There has surely never been a more important time than now to ensure that mothers, grandmothers, sisters, aunts and other women across the globe have the support, resources and the opportunities they need to take bold actions for the betterment of themselves, their families and ultimately our world.
We are facing a refugee crisis that has not been experienced since WWII. With more than 65 million people, of which 50% are women and girls, now evacuating their home countries, seeking asylum or being internally displaced. Through our program #Mobility4All and partnership with the grassroots aid organization Help Refugees, I've witnessed firsthand the unique challenges that women face as refugees fleeing unconscionable situations. These are some of the most vulnerable people affected by this global crisis. These are the women who have had to leave everything behind and start anew in a land where they don't speak the language, don't have any family or friends, and truly don't have anything beyond hope for a better future.
At the same time, I've also witnessed firsthand the amazing and inspirational abilities of women who rise up and fill the huge gaps in vital services for those displaced by war and conflict. The three women who founded Help Refugees, for instance, saw the dire need in their communities and without hesitation, went into action. Through a series of fortunate events (and a LOT of hard work), these women found a way to enable "ordinary people to help other ordinary people in need in the most direct of ways."
I have had the honor to visit several of the refugee camps where Help Refugees operates, and each time I have been struck by the unimaginable difficulties facing the women living in these camps. Here's just one small example: At one camp, the teams on the ground saw unusually high rates of urinary tract infections (UTIs) among the women there. Why? Many of the women were fearful of going to use the toilets in the dark because they didn't feel safe, so instead they avoided going altogether until the daylight hours. Now that's probably not something that you have to think about in your everyday existence.
While women may be successful in escaping persecution and violence at home, what often happens is that they become stuck in highly volatile and exposed living conditions at unpoliced refugee camps. Reports of sexual assaults on women are not uncommon. Additionally, women will often partner with a man in the hopes that they can help them secure a job, travel documents or other services. Human traffickers prey on these vulnerable women and lure them into appalling arrangements.
If there's a light at the end of the tunnel, it is that there is an increasing awareness of the dangers facing women "on the move." At the Help Refugees-supported Orange House in Athens, Greece, unaccompanied women and children refugees are supported in myriad ways, from language lessons and yoga classes to cooking courses and job training. In Lesvos, Greece, Lighthouse Relief – another organization supported through Help Refugees – gives women and children access to safe, communal environments that provide child and female friendly spaces, infant and young child feeding programs and a sexual reproductive health clinic.
As we celebrate International Women's Day, I am empowered by the strong female entrepreneurs around the world like the three women who founded Help Refugees and the many others building companies of all types. I am reminded by the incredibly important work many people to do to help women build a better life , and I take heart in our efforts at MOVE Guides to give back to those in need through #Mobility4All. My hope is that someday our efforts on behalf of refugees will no longer be necessary, but until then, we will continue to be bold and work to support the relocation and resettlement of the many refugees in our world.