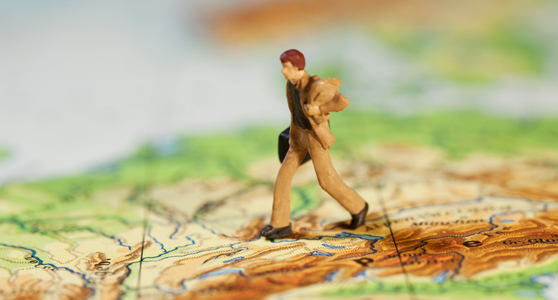 2016 in Global Mobility Management: Year in Review
2016 was year of significant change in global mobility management.  We saw migration of all types reshaping our societies; enterprises digitizing global mobility processes and easily accessing data on mobile employees for the first time; and technological advances that bring us closer to a world where the flow of people, goods and payments is seamless. Here are my thoughts on these major shifts in 2016.
Global mobility and migration becomes a constant
2016 was the year of mobility for everyone. Global mobility at corporations is growing and we now have the largest movement of corporate employees ever in history. CEOs face challenges finding talent and running global businesses – and data from their businesses shows the percentage of mobile employees consistently growing. These corporate citizens – whether from the US, China or Nigeria – are an increasingly global and mobile demographic that thinks not about office locations, borders or nationalities, but about a single interconnected global professional world. They travel regularly, complete projects and 'tours of duty' in many locations and maintain vast reaching networks.
While employee mobility grew in 2016, the year also saw a very different type of mobility sweeping society – the largest movement of refugees in recent memory. We now have 22 million displaced people worldwide, many of them fleeing areas of conflict and poverty in search of opportunity and safety. They bring skills from prior careers in their home countries, and tenacious ambition to contribute to their new societies. But this mass migration has also brought significant political and social challenges that we are only beginning to understand. The division between those of us who see mobility – for everyone – as a force for good, and those who fear it, is stronger than ever and contributed to the polarized US election and UK Brexit referendum this year. As 2017 dawns, I foresee hope for new policies, technologies and tolerance to progress an open, global and mobile world for all people.
Digitization of global mobility management accelerates
HR departments tasked with managing and moving their employees around the world have long talked about their need for technology to manage the process and analyze data. Despite this, global companies have long relied on manual business processes, spreadsheets and outdated relocation services companies to deliver global mobility management. 2016 was the year this started to change, and global mobility management became a digital business area.
At MOVE Guides this year, we saw multinational firms around the world take active steps to digitize their global mobility operations and adopt software as the backbone of their programs.  2016 was the year of digital transformation across the enterprise – with C-Suite digitization initiatives facilitating changes in business processes from executing contracts to communicating employee benefits to managing supply chains.  The global mobility management market shifted from an analogue managed-service fraught with inefficiencies and employee experience gaps, to a digitally-enabled business process with centralized analytics and a modern employee experience.  In 2017, I predict increasing numbers of companies will digitize their global mobility management and, in turn, better attract, deploy and analyze their global employees.
Mobility Moonshots in sight: big data, automonous shipping and blockchain
While companies digitized their global mobility management, we continued to make technological progress that moves us closer to a world of freely flowing people, goods and payments. We saw huge disruption in the global shipping industry – most notably with Uber-owned Otto making the world's first autonomous truck delivery in October. The US trucking industry alone hauls 10.5 billion tons of annual freight reaping more than $700 billion in annual revenue – and is the backbone of the $17bn+ US domestic household goods shipping industry, a core part of global mobility management. Household goods companies worldwide face driver and capacity shortages in trucking, and price pressures through their supply chains. Autonomous trucking is the beginning step for the moonshot that is a fully autonomous household goods shipping market — from trucks to rail to cargo lines – all enabled through intelligent supply chain data and analytics.
2016 was also the year of progress in global finance and payments, perhaps the least discussed and most challenging part of global mobility management. Moving people around the world requires payments to many vendors in a global supply chain and to employees not set up on a traditional payroll system. In 2016, we saw progress toward a world where blockchain is a single distributed ledger of value that eases inefficiencies in financial transactions with global supply chains and globally distributed employees.
As we say good-bye to 2016, I could not be more excited about the future of global mobility management. We certainly face challenges – politically, economically and technologically – to an open and mobile world, but we are making progress. Corporations are digitizing to more easily move their people; charities are supporting refugee mobility and providing opportunity to those fleeing despotic regimes; and entrepreneurs are continuing to develop solutions for people, goods and money to flow freely.
I am proud for MOVE Guides to be a part of this. Cheers to a great 2016, and onward and upward into 2017!